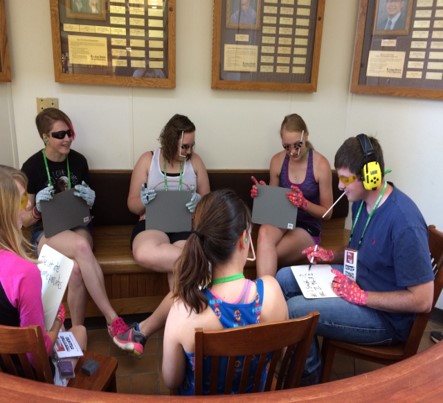 Erin Yelland
Kansas State University
Our latest webinar, found here, discussed the topic of age-related sensory decline and its impacts on daily life. At the end of the webinar, I briefly introduced a program called Gray for a Day, that seeks to introduce people of all ages to age-related sensory decline, encourage participants to adopt healthier lifestyle behaviors, and employ empathy in their daily lives – especially to older adults who may have age-related sensory decline.
Gray for a Day is an interactive simulation experience that utilizes an empathic model to educate participants on the age-related sensory and functional challenges some older adults might face. The curriculum package is completely scripted, includes a variety of leader's materials (i.e., leader's guide, scripted PowerPoints in English and Spanish, activity guides, consistent evaluation materials, recruitment flyer, etc.), and is 100% free to access. You can access it now here.
The program was recently featured in a Journal of Extension article that you can find here. Another article, featuring the evaluation results from implementation thus far, is forthcoming (we'll let you know in this blog when it is out!).
This is a fun program that you can implement with a variety of audiences in a meaningful and purposeful way. Long-term care staff? Perfect! Students in CNA, LPN, or other helping profession classrooms? Great! Couple the program with a service opportunity for your 4-H youth? Wonderful! How about FCS classrooms in your middle and high schools? Yes! There are so many potential opportunities for this program to be utilized.
Have you implemented the program before? What other ideas do you have for audiences that would benefit from the program? Let me know what you think!