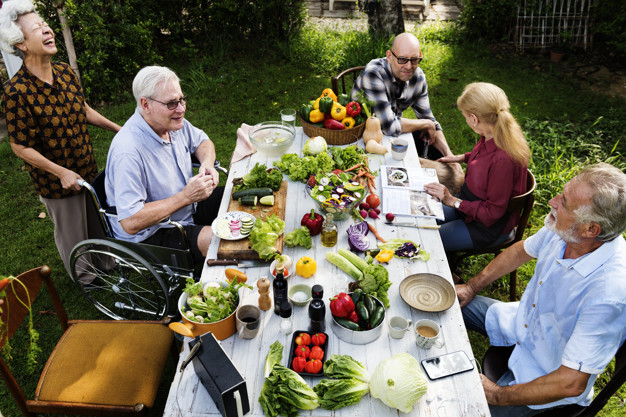 Architectural Barriers to Aging in Place
Leacey Brown, M.S.
Gerontology Field Specialist
South Dakota State University
Older adults report a preference to remain in their home and community (i.e., aging in place). However, important factors contribute to how well an individual person can successfully age in place. Common factors include access to transportation, isolation risk, access to services, and home and community design. This blog will focus on how the design of the home can either hinder or support successful aging in place.
Lever style door handles and faucets; extra wide hallways and doors; accessible electrical controls, no-step entry, and single-level living (i.e., bedroom and accessible bathroom on main level) are features needed in the home to ensure people with limited mobility can interact with the space. One or more of these features is missing in most existing homes (Joint Center for Housing Studies at Harvard University, 2014). However, these features alone do not facilitate successful aging in place. Laundry rooms and kitchens are critical for successful aging in place. Unfortunately, many of these spaces in homes make it difficult to perform routine tasks, such as meal preparation.
Because of the absence of features to support aging in place, accessibility home modifications are needed. Individual homeowners delay making accessibility modifications for various reasons, including lack of awareness, stigma, and cost. Evidence suggests that delaying the implementation of home modifications reduces the positive impact they have on health and wellbeing outcomes (Powell, Mackintosh, Bird, Ige, Garrett, & Roys, 2017). The ideal solution is to build homes that need minimal, if any, accessibility modifications to support successful aging in place.
Ron Mace developed Universal Design to describe the process of creating products and spaces that can be used by diverse individuals with minimal need for adaptation. The accessibility elements of Universal Design blend seamlessly with the design of the space or product. In contrast, accessibility refers to specifications that meet the needs of people with disabilities, leaving the needs of other users unmet. Universal design may be critical to support successful aging in place, yet its implementation has been sparse.
As a result, South Dakota State University Extension and North Dakota State University Extension collaborated to conduct the Dakotas Aging in Place Study. The purpose of this project was to explore existing gaps in consumer knowledge, motivation, and barriers to the implementation of accessible and Universal Design housing options. Over 600 people participated. A report will be available in June of 2019. The results will be used to inform Extension outreach and educational efforts to support successful aging in place.
References and recommended readings:
AARP. (2019). Making room: Housing for a changing America. Retrieved from http://aarp.org/MakingRoom
Joint Center for Housing Studies at Harvard University. (2014). Housing America's older adults: Meeting the needs of an aging population. Retrieved from http://www.jchs.harvard.edu/research/housing_americas_older_adults
Mace, R. (1998). Universal design in housing. Assistive Technology, 10(1), 21-28. doi: https://doi.org/10.1080/10400435.1998.10131957
Powell, J., Mackintosh, S., Bird, E., Ige, J., Garrett, H. & Roys, M. (2017). The role of home adaptations in improving later life [Technical report]. London: Centre for Ageing Better. Retrieved from: http://eprints.uwe.ac.uk/33945
Pynoos, J., Steinman, B. A., Do Nguyen, A. Q., & Bressette, M. (2012). Assessing and adapting the home environment to reduce falls and meet the changing capacity of older adults. Journal of Housing for the Elderly, 26(1-3), 137-155. doi: https://doi.org/10.1080/02763893.2012.673382
World Health Organization. (2018). WHO housing and health guidelines. Retrieved from https://www.who.int/sustainable-development/publications/housing-health-guidelines/en/
Photo credit: Food photo created by rawpixel.com – www.freepik.com